Garment Technology Department
Overview
Laboratory
Projects
Staff
Syllabus
Time Table
"To make your dreams a reality you need a plan."
Wendell Rodricks
 Fashion Designer and Padmashree Awardee
The Department of Garment Technology was started in the year 1996 under the World Bank Scheme in the then Women's Wing of the institute. It's a 3 years Diploma programme designed to enable students to learn the elements of Textile, Garment Construction, Designing and Industry.
The 3 years of the Diploma Programme, was structured under the expertise of Padmashree Awardee Wendell Rodricks, International Fashion Designer and Author. The faculty is experienced in industry and highly regarded by academia. The faculty includes Fashion and Accessory Designers, Textile Majors, Garment Industry personnel and experts.
The Department of Garment Technology has set academic standards and strives to provide a pool of creative genius and technically competent professionals to the Textile and Garment Industry. The Department provides a platform for fashion education, research and training.
Important Academic Activities:
Industry Internship:In the recently updated syllabus the students intern for eight weeks to understand the structural and functional constituents of the industry. During the internship, students learn to adapt to real industry situations and are assigned practical projects, which equip them for decision-making in a realistic environment. The internship also helps strengthen the relationship between industry, institute and students.
Fashion Shows:The Department is well known for its annual fashion shows, started way back in 2000. These shows showcase the creativity, talent and hard work of the Final year students on the ramp, which is open to public.
Projects: Each student undertakes a project during their course of study, in the final semester, in a field of their choice like in Textile, Garments, Accessory and other Garment related fields. The aim is for innovation and creativity along with research.
Craft Survey, Exhibitions and Field trips:To promote the state handicrafts the students undertake field visits to closely interact and learn from the craftsmen to add value to their products. The department organizes art exhibitions and displays, to promote the handicrafts and work created and done by the students. Students frequently visit industrial units to integrate theory with hands on practice. Along with this they also visit museums, art galleries, exhibitions and trade fairs to keep in touch with the latest fashion and textile trends.
Industry-Institute Interactions: There is always room to learn more. Students are introduced to experts from various fields like, Entrepreneurs, Personality development coaches, Textile designers Social Media experts etc. They interact and imbibe holistic knowledge from these interactions. Students are also given the opportunity to be part of elite Fashion Shows by established Fashion Designers, both local and national too.
Co-curricular Activities: Students are encouraged to participate in various non academic activities like workshops, seminars, intercollegiate activities and competitions. This is done to imbibe in them a sense of team building, personality development and competitive spirit, for an all round development.
LABORATORIES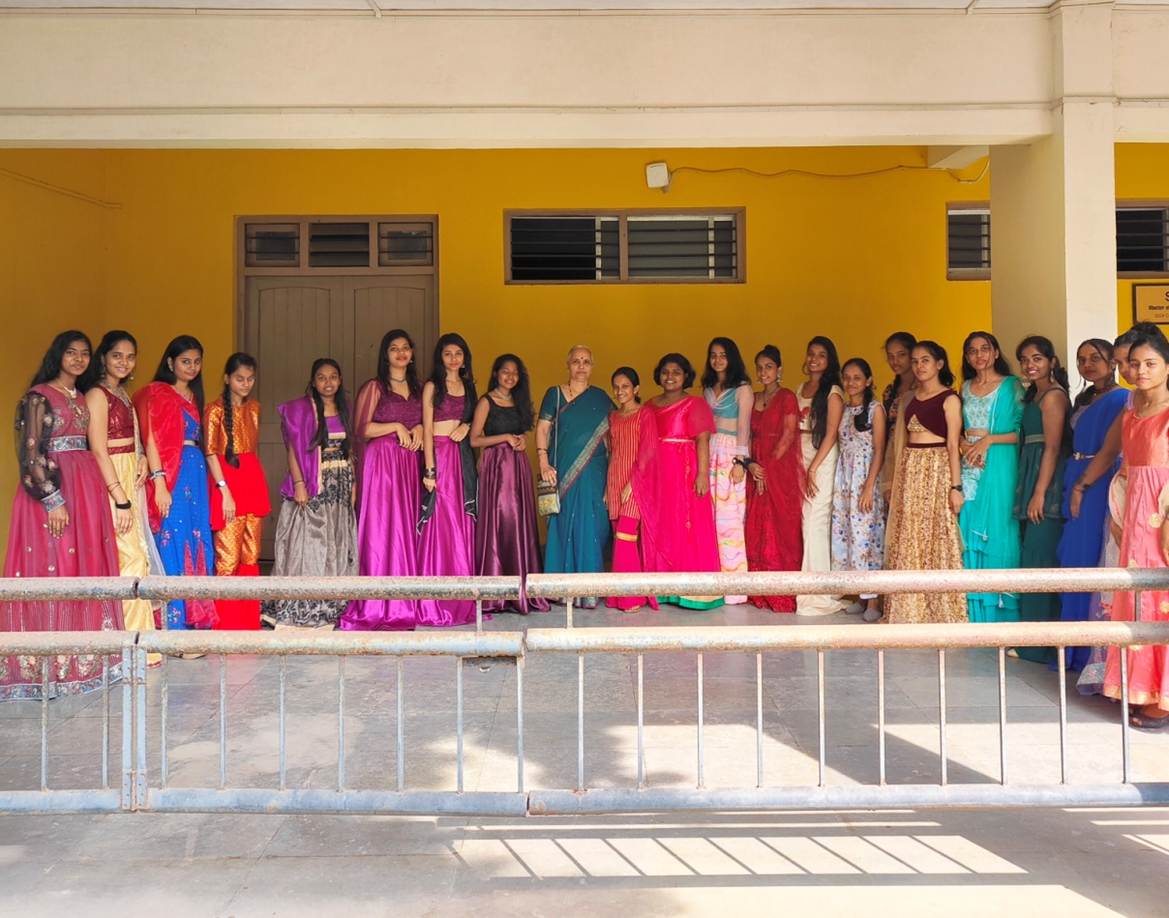 ASSIGNMENTS AND ASSESSMENTS
TALKS AND WORKSHOPS BY INDUSTRY EXPERTS
FASHION SHOWS OVER THE YEARS
CO CURRICULAR ACTIVITIES
Clothing Labs: I, 2 and 3 are equipped with industrial sewing machines, domestic sewing machines, over lock stitch sewing machines, Irons, Ironing tables , drafting tables, cutting tables, table loom, fashion makers and high speed Industrial sewing machines. The students use the Labs for drafting, cutting and stitching of garments, Demonstration of how fabric is woven is given with the help of the table loom in Lab-I. The Lab-2 is also extensively used for construction, embroidery and surface ornamentation. The Lab-3 is equipped with mannequins and high speed machines, which are used for draping with a full size mirror and an enclosed area for trials and draping.
Computer Lab: Lab 4 is the computer lab, where students are taught to design on computers. This lab is also utilized for presentations and industry-institute interactions.
Dyeing & Printing Lab: The DP Lab is well equipped and used by students for dyeing and printing, block printing and fabric painting. The lab is also used by the Community Polytechnic for conducting practical's in baking and personal grooming.
Ms. SARITA ROY
I/c HOD, Dept. of Garment Technology, Sr. Lecturer (Selection Grade)
Diploma in Dress Designing and Mfg (Sophia Polytechnic), B.A, PGDM in Event Management (Goa University) and MBA in Fashion Design Management (M S University)
saritaloboroy@gmail.com / gppgarment2021@gmail.com
09822159095
Area of Interest: Design, Fashion, Accessories, Events, Recycle and Reuse.
Pay Band: 13A1 (131400 - 217100)
---
Ms. KAVITA S. MONE
Sr. Lecturer (Selection Grade), Dept. of Garment Technology.
M.H Sc (Textiles and Clothing) M. Phil. in Textiles & Clothing
kavitasmone@gmail.com
09423060445
Area of Interest: Textiles and Clothing
Pay Band: 13A1 (131400 - 217100)
---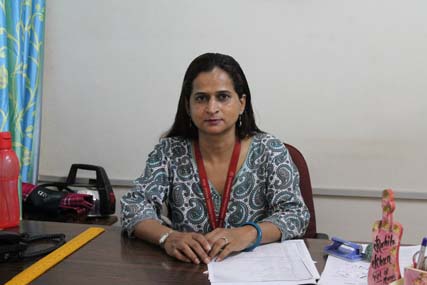 Ms. RAHILA KHAN
Sr. Lecturer (Selection Grade), Dept of Garment Technology,
Diploma in Costume Designing and Dressmaking. BSc - Fashion Technology. M.Sc. -Fashion Technology
Internal Co-coordinator - Community Development Through Polytechnic Scheme
rahisal89@yahoo.com
09822984637
Area of Interest: Fashion Industry, Fashion Design, Fashion events. Textile and Clothing, Community Development
Pay Band: 13A1 (131400 - 217100)
---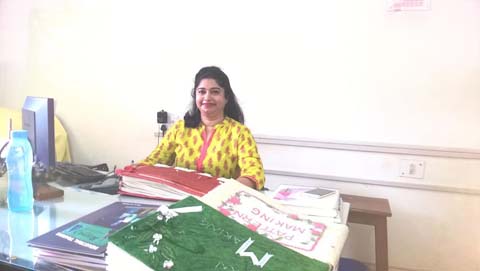 Ms. CHERYL ARAUJO SALDANHA
Sr, Lecturer (Selection Grade), Dept. of Garment Technology,
I/c HOD, Modern Office Practice
M.Sc. Textiles and Clothing
cherylsaldanha1972@gmail.com
09822982972
Area of Interest: Textile, Clothing and Creativity.
Pay Band: 13A1 (131400 - 217100)
Papers Published:
1.Study on non-Durable flame retardant with stiffness on cotton-Colourage Aug '97
---
Ms. VANALI BALLIKAR
Sr. Lecturer, Dept. of Garment Technology
Textile Engineering(VJTI), M.B.A., M.Sc. (Costume Design and Fashion Tech.)
vanali.ballikar@gmail.com
(0832) 2421475
Area of Interest: Intelligent Textiles, Technical Textiles, Textile Design and  Design Creativity.
Pay band: 15600-39100 AGP-7000/-
Papers Published:
"Careers in the Textile Field" www.fibre2fashion.com article/45/4485-careers –in-the-textile1.asp Nov 23rd 2012 Journal
" Skills needed by textile designer"Dec 2012 Journal www.fibre2fashion.com.
"Patterns for the second Skin" Jan 2013 Journal www.fibre2fashion.com
" Traditional saree of Goa" March 2013 Journal www.fibre2fashion.com
" Ethnic Textile Designs From Rajasthan" Sept 2013 https://www.fibre2fashion.com/industry-article/7066/ethnic-textile-designs-from-rajasthan
" Nano technology in Textiles: A Review" Oct 2015 https://www.fibre2fashion.com/industry-article/7638/nano-technology-in-textiles-a-review"
Pineapple Fibre: fruit Of the Loom" Sept 2016 https://www.fibre2fashion.com/industry-article/7798/pineapple-fibre-fruit-of-the-loom
---
Ms. BERNADETTE MASCARENHAS
Technician (Garment Technology), Dept. of Garment Technology
Diploma in Garment Technology
bernadettemascarenhas21@gmail.com
09922022897
---
SHRI. CHETAN GAJANAN NAIK
Laboratory Assistant (Contract)
B.Sc. in Chemistry( Six Units)
naikchetan7777@gmail.com,
09307218556
Pay: Gross - 23,028/-
---
SHRI. YESHWANT M. KORGAONKAR
Multi Tasking Staff (MTS)
hodgt-gpp.goa@nic.in
09503549683
Pay: Gross - 64,864/-
Subjects Offered for Diploma in Garment Technology
DIPLOMA IN ENGINEERING CURRICULUM STRUCTURE
 Semester
Code
Subjects
L
T
P
H
TH
TM
PR
TW
TOT
FIRST
GA101
Basic Design
0
0
6
6
-
-
50
50
100
GA102
Basic Sewing
0
0
6
6
-
-
75
50
125
GA103
Pattern Making
0
0
5
5
-
-
75
50
125
GA104
Textile Fibers
4
0
1
5
75
25
-
-
100
GC101
Communication Skills
0
0
2
2
-
-
25
25
50
4
0
20
24
500
SECOND
GA201
Textile Designing
1
0
5
6
-
-
75
50
125
GA202
Children's Garments
0
0
6
6
-
-
75
50
125
GA203
Colour And Garment Design
0
0
6
6
-
-
75
50
125
GA204
Surface Ornamentation
0
0
4
4
-
-
50
50
100
GC203
Environmental Science
4
0
0
4
75
25
-
-
100
5
0
21
26
700
THIRD
GA301
Fashion Illustration
0
0
6
6
-
-
75
50
125
GA302
Textile Construction
3
0
2
5
75
25
-
25
125
GA303
Women's Pattern Construction(Indian)
0
0
6
6
-
-
75
50
125
GA304
Industrial Garment Manufacture
3
0
1
4
75
25
-
25
125
GA305
Computer AidedFashion  Design
0
0
4
4
-
-
50
75
125
GA306
History of World Costumes and Fashion
1
0
3
4
-
-
75
50
125
7
0
22
29
750
FOURTH
GA401
Fashion Merchandising
3
0
1
4
75
25
-
25
125
GA402
Draped Garments
0
0
6
6
-
-
75
50
125
GA403
Garment Import and Export
3
0
1
4
75
25
-
25
125
GA404
Fashion Accessories
0
0
4
4
-
-
50
50
100
GA405
Garment Design Appreciation
1
0
4
5
-
-
75
50
125
GA406
Gents Garments
0
0
6
6
-
-
75
75
150
7
0
22
29
750
FIFTH
TR501
Industrial Training
0
0
15
15
-
-
30
70
Grade
GA501
Women's Pattern Construction(Western)
0
0
5
5
-
-
75
50
125
GA502
Fashion Event Management
0
0
3
3
-
-
25
50
75

CC502

Essentials of Entrepreneurship Development

0

0

2

2

-

-

-

25

25

*AC101
Essence of Indian Knowledge and Tradition

2
-
-
2
-
-
-
-
-
Elective 1 (E1)
3
0
2
5
75
25
25
25
150
 
5
0
27
32
375
SIXTH
GA601
Fashion Promotion
0
0
6
6
-
-
-
125
125
GA602
Fashion Business Management
3
0
 0
3
75
25
-
25
125
GA603
Portfolio Development
0
0
3
3
-
-
50
50
100
GA604
Knitwear
0
0
4
4
-
-
50
50
100
GA605
Garment Project Work
0
0
6
6
-
-
50
100
150
*AC102
Indian Constitution
2
-
-
2
-
-
-
-
-
Elective 2 (E2)
3
0
2
5
75
25
25
25
150
 
8
0
21
29
750
L- Lecturers  T – Tutorial  P – Practical  C-Credits TH – Theory Marks TM – Test Marks  PR – Practical Marks  TW- Term Work Marks
*AUDIT COURSES OFFERED IN THE 5th AND 6th SEMESTERS
 ELECTIVE GROUPS (E1 AND  E2)
ELECTIVE GROUP  E1
GA511
Fashion Industry Essentials
3
0
2
5
75
25
25
25
150
GA512
Dyeing & Printing
3
0
2
5
75
25
25
25
150
GA513
Crafts of India
3
0
2
5
75
25
25
25
150
ELECTIVE GROUP  E2
GA611
Clothing Psychology
3
0
2
5
75
25
25
25
150
GA612
Fashion Styling
3
0
2
5
75
25
25
25
150
GA613
Fashion Journalism
3
0
2
5
75
25
25
25
150